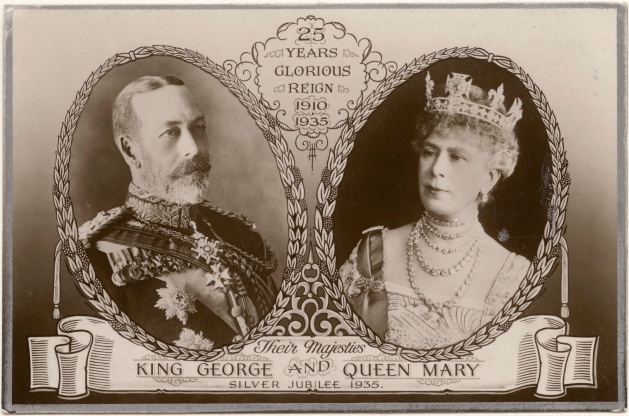 Celebrating the Royal Jubilee
Author: Susan Biddle.
This post looks at how George V's Silver Jubilee in 1935 was celebrated by Myrtle Broome in Jerusalem and by her parents in Bushey, UK, and includes a diversion to Tell ed-Duweir, Biblical Lachish.
King George V's Silver Jubilee was celebrated on 6 May 1935. Then, as now, commemorative Jubilee merchandise was popular. Sheikh Jed el-Karim, Myrtle's Arabic teacher in Abydos and a local school teacher, was pleased to receive from Myrtle's mother the first two in a series of Jubilee postcards which he showed to the children he taught. Perhaps this was one of those postcards:
In early May 1935 Myrtle was in Jerusalem for a couple of weeks after the end of the season in Abydos. Palestine was then a territory under British Mandate. She was doing some copying work at the Jerusalem Museum for James Starkey, a British archaeologist excavating at Tell ed-Duweir, Biblical Lachish, in Palestine. Earlier in the season Hasan Awad el Quatshan, a Palestinian archaeologist on Starkey's team who had previously worked with Flinders Petrie, had discovered the "Lachish letters" in a small guard room next to the outer city gate. These were ostraca – pot sherds – inscribed in ink in ancient Hebrew script. Most of the letters were reports from nearby outposts to a commander stationed at Lachish, shortly before its conquest by the Babylonians under Nebuchadnezzar. The letters were not only the earliest examples of personal writing yet found in Palestine, but also included parallels with some of the Book of Jeremiah in the Old Testament. The letters were found immediately below a blackened layer left by the burning of the city following its conquest.
This discovery had been reported amid much excitement, including in the 4 April 1935 Jewish Daily Bulletin. Starkey showed Myrtle over the Tell ed-Duweir excavations; she did not mention the Lachish letters, but told her mother that this was "the site of Nebuchadnezzar's palace that was destroyed by fire about BC 570, there are also remains of a Persian fortress that was built on the ruins". She conceded to her mother that "there was not much to see actually but [Starkey's] explanations made it very interesting".
Starkey's team included Olga Tufnell, with whom Myrtle had worked at Qaw al-Kebir in her first season in Egypt in 1927 (described in her letters 1 to 13), which may explain why Myrtle was asked to do this work. She stayed at Beaumont House, a hotel popular with travellers and archaeologists, set up by artist, surveyor and archaeologist E. F. Beaumont. Her fellow guests included Dr Nelson, Field Director of the Oriental Institute's Epigraphic and Architectural Survey at Chicago House in Luxor, and (from 8 May) Flinders and Hilda Petrie, so she felt among friends.
Myrtle, along with other residents at Beaumont House, listened to the wireless broadcast of a service from one of the English cathedrals during the evening of 5 May 1935, and on 6 May 1935 they listened to the Jubilee service – presumably the Service of Thanksgiving at St Paul's Cathedral, London. She commented that "the wireless was very clear & one could hear every word".
There was a Jubilee procession in Jerusalem on 6 May 1935. Myrtle was too busy to go to see this but she heard the band and the aeroplanes. The Jewish Daily Bulletin of 7 May 1935 reported that "Military parades, airplane maneuvers and special services in churches and synagogues marked … the celebration of the Jubilee of King George V throughout Palestine. Joining the entire Empire in the celebration, Palestine … was decorated with British flags, merry crowds filling the streets of Jerusalem, Tel Aviv and other cities". Schools, banks and public offices were closed, while the telegraph offices were kept busy despatching congratulatory messages from institutions and individuals to Buckingham Palace.
Myrtle had sent a guinea to King George's Jubilee Trust, and received a letter from St James' Palace thanking her for her donation. She was surprised that the royal secretaries had not known better than to put just a 2½d stamp on an envelope sent to Egypt. At that time, postage for a 2 oz letter from Egypt to England was 4d. The objects of King George's Jubilee Trust seem likely to have appealed to Myrtle, being "to provide more and better facilities for the recreation and guidance of the younger generation, to encourage the cultivation of abilities, craftsmanship and all those outdoor interests and activities which make for mental and physical fitness".
Back in England, Myrtle's parents would have seen the Jubilee celebrations in Bushey. These included a Jubilee arch designed by another Bushey artist, Lucy Kemp-Welch, famed for her paintings of horses and as the illustrator of the 1915 J. M. Dent edition of Anna Sewell's children's story "Black Beauty". The arch was built of timber, and lit by electric lamps.
Lucy Kemp-Welch designed another arch to mark Queen Elizabeth's coronation in 1953 – this features in Bushey Museum and Art Gallery's exhibition to mark the Platinum Jubilee, which runs until 23 October 2022.
Sources:
Letters 332, 340, 341.
With thanks to: